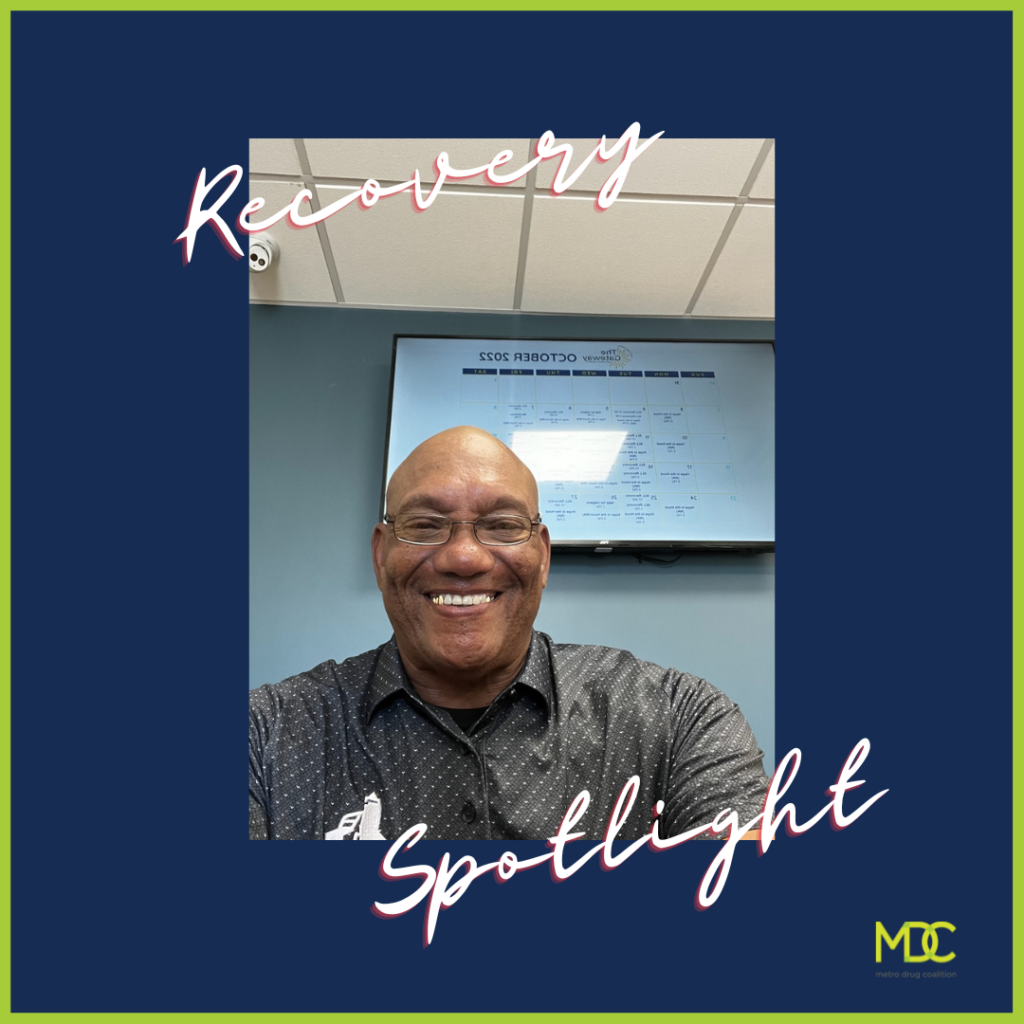 My name is Emory B Young II, born May 8, 1957, in Knoxville Tn. I have been told I am bull headed- true to my sign Taurus. I was raised in Johnson City TN by my mother's sisters at an early age. I went to early grade school in "God's Country". I went to junior high in Knoxville and lived with my parents. Both parents are now deceased. My father was employed at TVA as a custodial supervisor. My mother was a self-employed beautician. I have two brothers, one 2 years older and one 7 years younger and an older sister now deceased. My father was an alcoholic as evidenced by his problematic drinking, that I didn't understand then. My mother had mental health issues that were surely exacerbated by living with a functional alcoholic. I know now that I was predisposed to have an addictive personality with mental health issues. Needless to say, I would later follow the footsteps that were put before me. Being raised in a dysfunctional family system affected by one or more parents dealing with mental health/substance abuse issues the typical outcome of my existence was predestined.
I grew up in a time where it was not acceptable for males to show or express feelings. I learned to stuff my emotions at an early age, mostly out of defiance to authority. I became an introvert because of my experiences and surroundings. Most people perceived me as unemotional and non-caring or participatory. I think I retreated within myself for protection. Life in the early 1960's and 1970's for a young African American living in the south was not all fun and games.
I was able to maneuver my way through classes in school without much effort or attention. I was an overachiever who always underachieved. My use of substances started at age 14 with drinking alcohol of my father's stash. I liked the way it made me feel. I was able to cope with my mother's anger outburst better with alcohol I found. I also started smoking cigarettes at age 14. I would progress quickly to marijuana and stronger forms of alcohol soon after I started. I had my first encounter with law enforcement at age 14 for auto theft and breaking and entering. I was put on probation and successfully completed. I managed to not get into any more trouble until I was an adult. I played football, golf and was the class president and was in junior ROTC in high school. I had expectations of excelling academically. I loved math and it came easy to me. I wanted to be something in life I just didn't know what. I joined the Army right out of high school to escape the emotional and physical abuse perpetrated by my mother. Physical abuse at the hands of parents was accepted during this time. I had a head start on others because of being in junior ROTC. I was a leader in my training class due to my exposure to ROTC. I was stationed at Fort Polk La for basic and advanced individual training. My father died while I was in basic training, and I was numb, he was my best friend. I traveled home one day went to funeral next day and returned to basic training the next day. I would have been recycled if I stayed any longer. I wanted to complete basic with the guys I had become friends with. I had no idea that this decision would come back to haunt me later. I didn't grieve the loss of my Father. I covered it up with more alcohol and was eventually assigned to my first duty station in an Infantry Battalion 1st 9th in South Korea. I immediately found ways and means to find illicit substances overseas. I started using more drugs and drinking increased. My behaviors became more erratic, I was unknowingly in the middle of a psychiatric break or a nervous breakdown some may call it. I was grieving the loss of my father. I lasted just short of year in service and was given a general discharge that was later amended to under honorable conditions. I was awarded a service- connected disability rating of 50% in 1978 from the Veterans Administration. I enrolled in Knoxville Business College and obtained an associate degree in computer science in 1980. I didn't work during this time and my only son was born in November of 1983. I was in a relationship with his mother for several years and later married and divorced. My addiction was beginning to spiral out of control. I was untrustworthy and not much of a reliable person.
As a result of veteran's preference, I was selected to work at US Postal Service in 1986. I was also enrolled at the University of Tn to become and educator. I was to begin classes the fall of 1986. I had a choice to make, and I chose to go to work. I worked at the postal service until late 1996 and during this time my disease continued to progress. One day as my disease was taking over my life, I had an accident in my postal vehicle and was suspended from work. During the first part of December 1996, I was admitted to James Quillen V.A. Medical Center in Johnson City TN for intensive substance abuse/mental health treatment. I retired on disability from the postal service while in treatment. I completed that process and stayed in the dormitory on site for a couple of months. My clean date is December 4, 1996. I have not found it necessary to use mind-and-mood altering substances since that date. "Relapse is not a requirement of the recovery process".
During the time from the dissolution of my first marriage till I got clean I was briefly married an additional time and looking back, those relationships were failed from the start due to my active addiction. After getting clean and returning home to my 3rd wife I was clean and realized I was unhappy in this relationship. I divorced for the 3rd time.
I began to attend Narcotics Anonymous meetings. I was taken to my first meeting by my drug dealer who was a relative, dropped me off and left me to find my way. I attended NA meetings religiously, began to chair meetings, set up meetings, went to the service committee in the area and really immersed myself in the process of recovery. I have had two NA sponsors since I came to the fellowship my current sponsor, I've had for the last 20 plus years. I am responsible for my mental/ physical/spiritual health today. I am an active participant in my holistic wellbeing.
I started working in recovery in 1998 at Cornerstone of Recovery. I met my third wife working at this center in 1998. I left the recovery field for a couple years at this time. I worked as a bus driver for KAT and a couple of private carriers. I had a chiropractic stroke in November of 2002 and was cognitively impaired for some time afterward. As a result of the stroke, I lost my commercial driving privileges for life. I began to draw social security disability for few years. I was divorced again in 2006, this time not a result of my active addiction. I remained active in
NA and continued to do service and attend meetings. I was rehired by Cornerstone of Recovery in 2004 and worked in inpatient treatment until 2006. I worked at Steps House Veterans Program from 2006 to 2009 facilitating A&D services. I returned to Cornerstone the third and final time in 2010 until 2016. I left COR to open Recovery House of East Tn in Wartburg in 2016 as program manager. I went to Blount Count Drug Court managing a supportive living facility, later that year to February of 2017. I worked at Florence Crittenton Agency from March 2018 till March 2019 facilitating substance abuse education services to incarcerated youth. I began work at Wellness North medicated assisted treatment facility doing relapse prevention groups from March 2016 to March 2020. I worked at Ensemble Recovery from March 2018 to September 2020 facilitating outpatient services and anger management classes. I began work at Metro Drug Coalition in September of 2020 where I presently work as a recovery coach to several males in early recovery. My recovery journey has co-existed with my work history in the field of addiction treatment as I have previously illustrated. I have worked the 12 steps of the program of Narcotics Anonymous with sponsor and practice the spiritual principles embodied in the literature to the best of my ability. I sponsor a few men and still attend meetings.
I have dedicated my life to the field of addiction recovery and treatment. I am a Licensed Alcohol & Drug Counselor II, Nationally Certified Addiction Counselor I, Substance Abuse Professional, Certified Peer Recovery Specialist, Registered Addiction Specialist, IC&RC Certified Alcohol & Drug Counselor I, CCAR Recovery Coach, Mindfulness Facilitator, Certified Peer Recovery Coach Supervisor, and an always grateful recovering addict.
Through experiencing the pitfalls of my personal journey, I have been able to find a place of service to the still suffering population in active addiction. I have had the opportunity to positively impact people's lives and give back to the community that I took from.
Today, I am a responsible, productive member of society. I am happily married and participate in a reciprocal relationship of love and giving and unselfish endeavors daily. Recovery has given me a life of blessings that I could never deserve or merit. "Recovery"- "To regain that which was lost" -if I had to imagine what that looked like at the beginning of this journey, I would have shortchanged myself hands down. I am grateful to have been given the opportunity to participate in this renewal of life. My hope shot to others is "Never have we seen a person who lives the NA program relapse". I have been clean for 25 ½ years as I write this piece. If I can do it anyone can also! God Bless and I hope this is an inspiration to someone!
Do you have a recovery story that you'd like to share? Email Ashlee Crouse at acrouse@metrodrug.org.