March 2022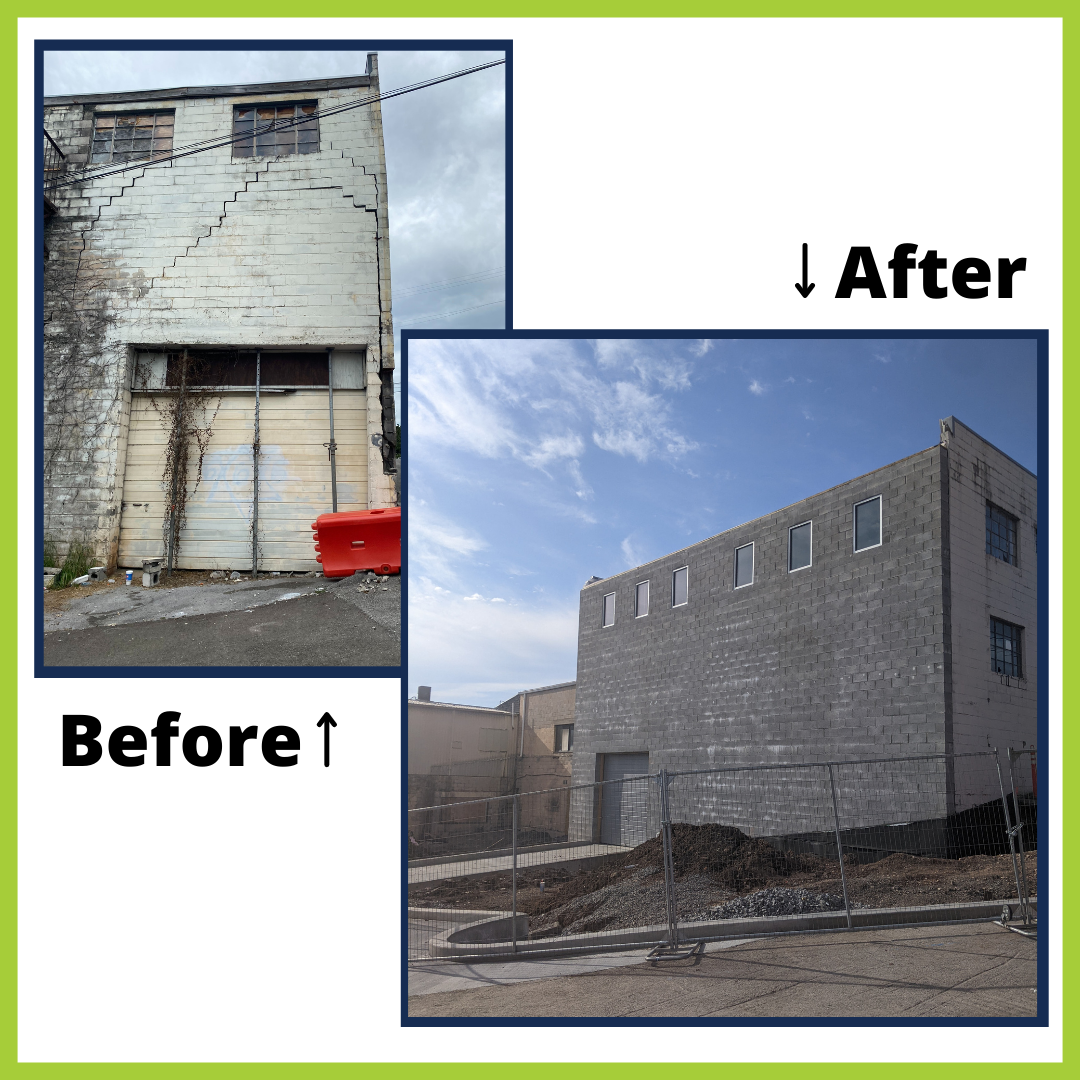 Fundraising for a capital campaign during COVID-19 has been a lesson in creativity and perseverance. We are so grateful for our campaign committee members, our MDC leadership, and the people who have supported this worthy project because we have raised over $3,300,000! Unfortunately, with $500,000 left to raise, we can't rest yet; but it is important to celebrate all the fantastic people who have helped make this dream a reality.
One of our most recent contributions to this project is a generous donation of $500,000 from the Boyd Family Foundation. As a result, the Gateway will now be called "The Gateway, The Boyd Family Center". We still have many naming opportunities available, including the Music & Art Therapy Rooms, the Community Room & Computer Lounge, and the Coffee Shop.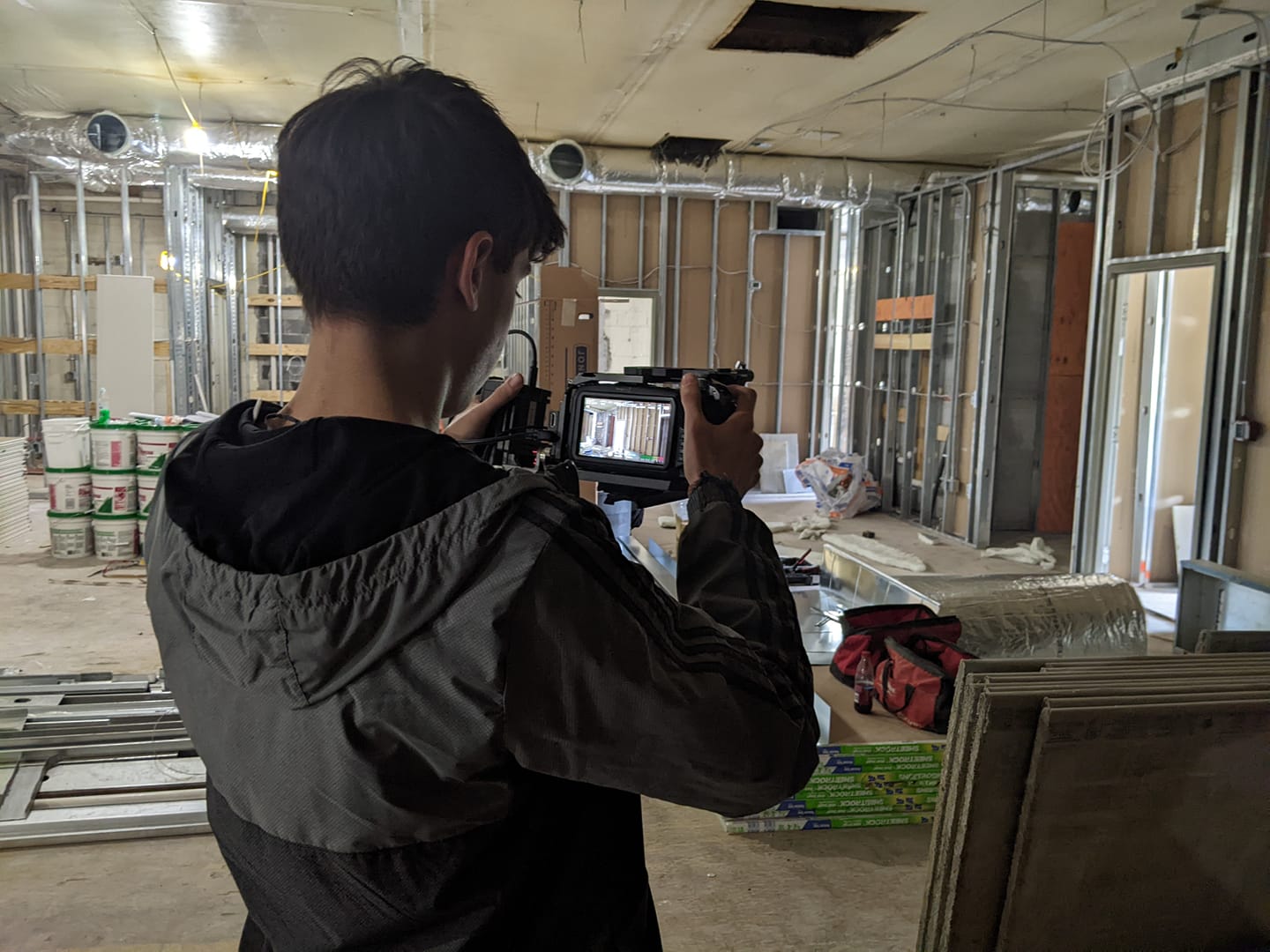 Renovations are in full swing, and MDC hopes to begin operations in The Gateway, Knoxville's first Recovery Community Center, by the end of Spring 2022. In February, Rick Cox Construction finished the exterior wall in the back of the building (seen in the picture on the right). 
What has been a construction zone for many months now is starting to look more like the Gateway we have been envisioning for years. With drywall going up (seen in the picture on the left), the walls of this place are starting to take shape, and we can feel the excitement that comes with knowing you are about to change your community!
We are grateful to Rustic Roots creative for documenting this exciting time for us! They have been capturing footage every step of the way and have been an amazing partner in this journey!
As a supporter of MDC, if you have relationships with donors, please reach out to Metro Drug Coalition. We would love to connect with them and share our vision of the Gateway.
If you would like to make a donation to this fantastic cause and help us get to the finish line, please click here.
July 2021
First of all, we want to thank YOU for your financial investment in establishing Knoxville's first recovery community center, The Gateway. I know you may be wondering where we are with the project as well as how your contribution has helped us thus far.
While the COVID-19 pandemic certainly hampered traditional fundraising efforts, we continued to refine plans and reorganize our capital campaign approach while raising money, including the addition of our enthusiastic campaign chair, Webster Bailey.
We are pleased to announce that with your help, we have raised $1.6 million towards the project, but have another $1.75 million to go. While we are continuing to raise the funding needed to complete the project, Metro Drug Coalition's (MDC) board has voted to establish a line of credit in order to get the center open and serving the community as quickly as possible. We are also happy   to announce that we have a generous donor who has committed to paying the interest on the loan until the remainder of the funds have been secured.
We can no longer afford to wait! The pandemic was extremely difficult on all of us, but for those with substance use disorders, it was our deadliest year yet, with 413 overdose deaths in Knox County alone. We know that CONNECTION to COMMUNITY is key to keeping someone in long-term recovery. The Gateway will be that hub where connection to others in recovery can happen, everyday all day!
We have secured grant funding to cover programmatic operations for next three years and we are excited to share with you how well our recovery coaching model is working with participants thus far: improved housing stabilization, decreased depressive symptoms, increase in employment, less trouble processing information and 100 percent substance free!
Are you able to continue to support this project with an additional one time or multi-year pledge? If so, we need YOU to help get this project to the finish line! Donate – Metro Drug Coalition. If you wish to donate stock or securities, we are able to that, simply by contacting our office at 865-588-5550.
Renovations will begin in late August or early September and we can't wait to share progress updates with you as we begin.
TOGETHER WE CAN MAKE THIS VISION A REALITY AND SAVE LIVES!
Please take a few minutes to watch the video below about The Gateway. Thank you to Rustic Roots Creative for producing this for us!
Watch Video HERE.
Thank you, again, for ALL that YOU do to make the Knoxville community a safer and healthier place to call home! Respectfully,
Karen Pershing                                         Webster Bailey                            Jim LaPinska
Executive Director                                   Capital Campaign Chair             Board President
January 2020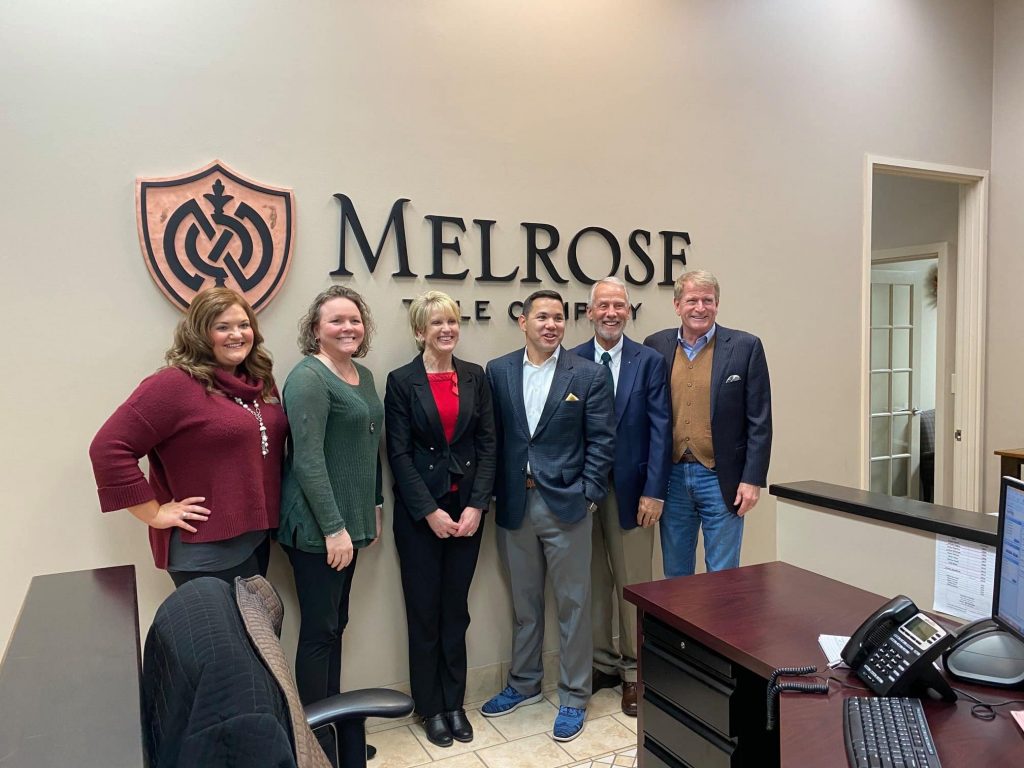 Metro Drug Coalition received the best Christmas present ever… on December 23, we closed on our building! This 22,500 square foot building will house MDC's headquarters and The Gateway recovery center. We will soon begin renovations at our new location, 530 West Fifth Ave.
In December, Mayor Madeline Rogero proposed and Knoxville City Council approved a one-time, $250,000 capital grant to MDC for The Gateway at the December 3, 2019 City Council meeting. You can read more about this grant here. MDC also received the Cigna Foundation Healthier Communities Grant funding for $80,871.00. This grant will specifically focus on recovery coaching within The Gateway.
We cannot express how much this means to our organization to receive funding for the work that will happen at The Gateway!
We have currently raised $347,000 for our capital campaign. We still have a significant amount to raise to make this dream a reality. We have increased our total capital campaign budget to 2.2 million dollars. We have adjusted the budget based on structural issues identified through the inspection process.
MDC has continued work with BarberMcMury Architects and we now have a contractor, Rick Cox Construction. We are so thankful for their dedication to this project and look forward to working with them through this venture.
We will begin providing recovery coaching and All-Recovery meetings while funds are continuing to be raised to complete the entire project.  Additional services, such as music therapy, art therapy, fitness and family trainings will be added as space is renovated. If you are interested in attending this meeting or learning more, please contact Jason Goodman at jgoodman@metrodrug.org.
As a partner of MDC, if you have relationships with donors, please reach out to Metro Drug Coalition. We would love to connect with them and share our vision of The Gateway.
February 2020
The new year has started off great for The Gateway. MDC hosted our first All-Recovery meeting. The meetings take place at 530 West Fifth Ave every Saturday from 2:00-3:00 p.m. We also have started a mindfulness meditation class immediately following the all-recovery meeting from 3:15-3:45 p.m. If you have interest in attending either of these meetings, we invite you to join us!
MDC is proud to announce that Jason Goodman has transitioned roles to MDC's Director of Recovery Support Services. In his new role, he will be responsible for the oversite of existing and additional peer recovery staff, including recovery coaches.  This will help lay the foundation for other support activities planned as The Gateway community center becomes operational.
MDC has received two grants, one from Cigna Foundation and will be receiving an additional grant from the Substance Abuse Mental Health Services Administration (SAMHSA) in April called "Building Communities of Recovery" to support the expansion of recovery programs, such as recovery coaching, all recovery meetings and safe, sober social activities.  The Cigna grant is providing over $80,000 in 2020 and the SAMHSA grant is $200,000 per year for the next 3 years.  We cannot thank Cigna and SAMSHA enough as they help us move the vision of The Gateway forward.
We are working closely with Ryan Dobbs, with BMA and Rick Cox Construction as well as engineers from ESK to prepare a timeline for Phase I renovations. The next step is to secure a demolition permit through the City of Knoxville and submit the building renovation plans for approval.  In the meantime, the capital campaign is still underway, with an additional 1.5 million yet to be committed.
As a partner of MDC, if you have relationships with donors, please reach out to Metro Drug Coalition. We would love to connect with them and share our vision of The Gateway.
March 2020
"Alone, we can do so little; together, we can do so much." -Helen Keller
On February 15 over 25 members of the community came together to help MDC clean up around The Gateway. We partnered with Choice Health Network to pick up and dispose of all the syringes found, then our volunteers spent their morning cleaning up our area.
After the cleanup, our Regional Overdose Prevention Specialist trained 14 individuals to carry naloxone. It is important for us not only to work on opening this recovery community center but also to leave our community better than we found it.
MDC is continuing the All-Recovery meeting at the building. The meetings take place at 530 West Fifth Ave every Saturday from 2:00-3:00 p.m. We also have started a mindfulness meditation class immediately following the all-recovery meeting from 3:15-3:45 p.m. If you have interest in attending either of these meetings, we invite you to join us!
Phase I of construction is slated to begin April 1. MDC's Executive Director, Karen Pershing, has been meeting with our engineers and architects to get final plans approved and finalize layouts/interior finishes for the building.
We need the community's support in helping MDC raise the remainder of Phase I. The sooner we can raise the appropriate amount, we can begin offering the full spectrum of services and trainings to assist individuals and families in the healing and rebuilding process.  There is not one person in this community who has not been touched by this disease and we cannot afford to stand by and turn a blind eye to both the economic and psychological toll this is having on our community.
As a partner of MDC, if you have relationships with donors, please reach out to Metro Drug Coalition. We would love to connect with them and share our vision of The Gateway.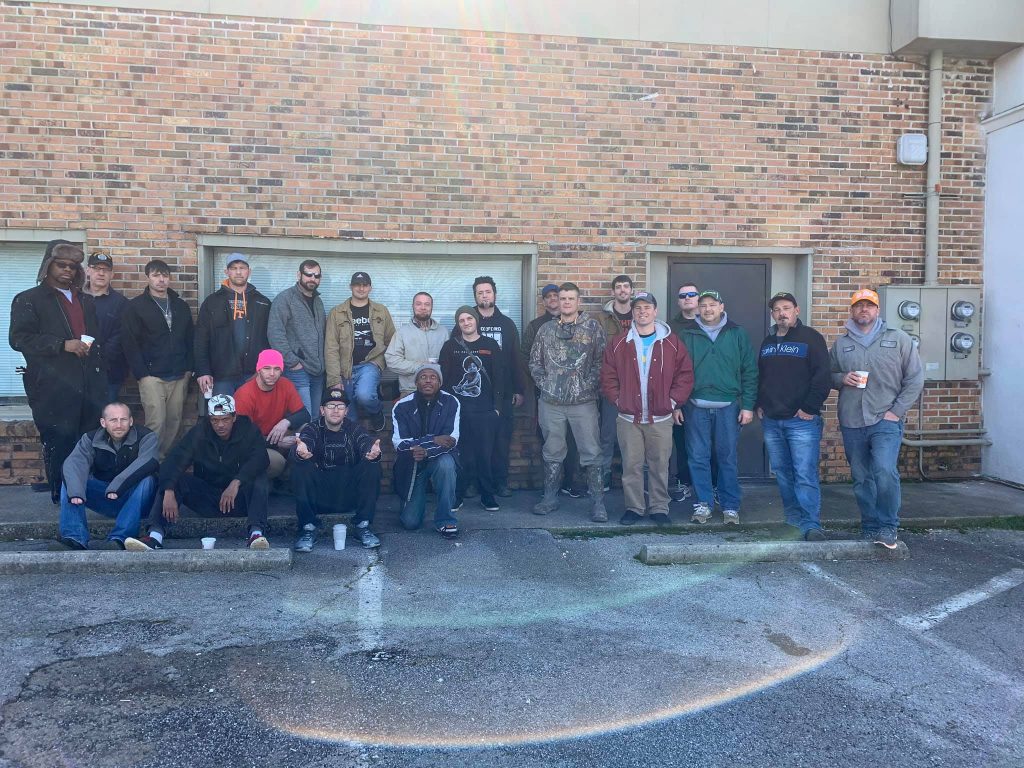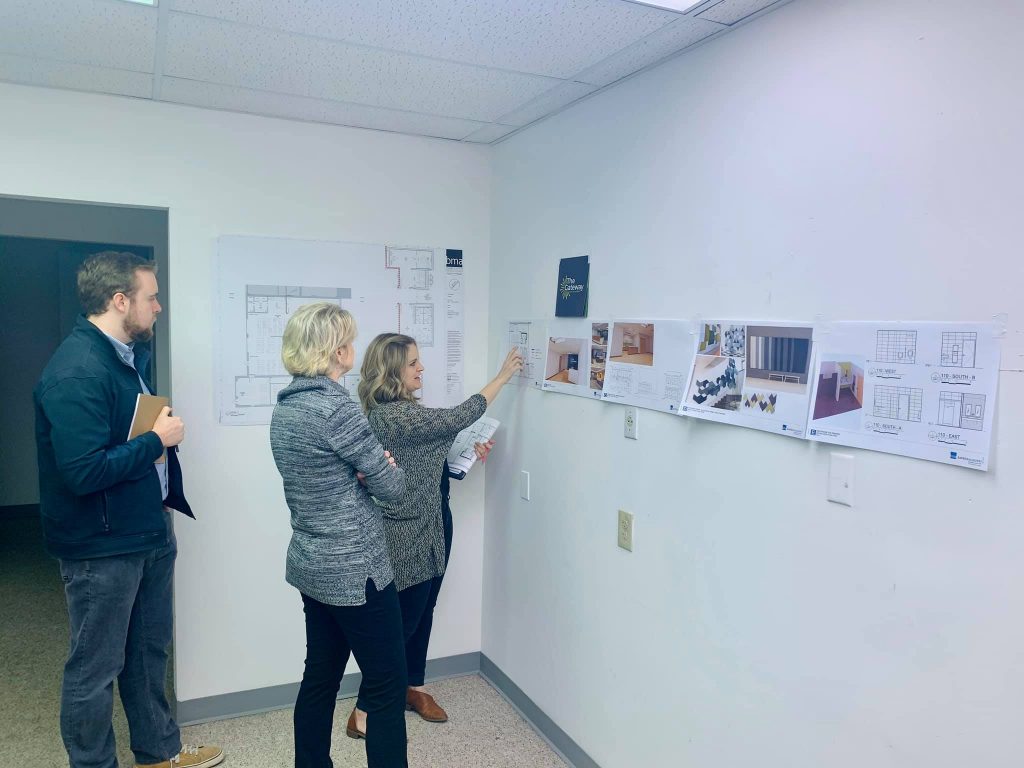 April 2020
MDC is proud to assist the City of Knoxville and our other social service partners by filling a much needed gap for the homeless population in our community. We are temporarily putting The Gateway plans on hold to allow our building on West 5th Ave. to be a shelter space for homeless persons who have been tested for COVID-19. Please see information below regarding the plans to use The Gateway building as "The Guest House" below.
The City of Knoxville is working with community partners to establish a shelter space for homeless persons who have been tested for COVID-19.
The City has been working with service providers and the Knox County Health Department to identify a space, social supports and medical management for a safe, operational space.
Mayor Indya Kincannon said, "It's important to note there are no confirmed cases in the homeless community right now in Knoxville, but we felt it was vitally important to have a designated place for those showing symptoms.  We are pleased so many community partners are joining forces to help open this shelter."
The Metro Drug Coalition is providing their building on West 5th Avenue for shelter space, which will be called "The Guest House." This building is the future home of the Gateway Recovery Community Center and has enough space to accommodate 18 people, following appropriate social distancing and infection control guidelines.
Metro Drug Coalition Executive Director Karen Pershing said, "Metro Drug Coalition is extremely concerned about the health and wellbeing of our most vulnerable populations in our community. The social service agencies have been working collaboratively to identify how to best continue services, while adhering to CDC guidelines. The homeless population is one of the most challenging and MDC has a vacant building near the homeless corridor that we believe can help fill a critical gap in preventing the spread of COVID-19 among this population by offering the space to our homeless service providers. All available resources need to be utilized in times like these."
Volunteer Ministry Center is gearing up to provide 24-hour onsite management of The Guest House and many other social service providers have stepped up to help support this effort. KARM, the Knox Baptist Association, United Way, Next Step Initiative, CAC, Angelic Ministries and others have offered resources including food delivery, portable shower and laundry facilities.
The City will provide up to $95,000 to operate the shelter over the next 2 months and referrals will come from physicians, hospitals and the health department.
This pandemic highlights the need for a housing first model to address the issue of homelessness in our community and the City will continue to work with our partners on strategies like permanent supportive housing, along with continued use of our Affordable Housing Rental Development Fund to ensure adequate housing for everyone in our community.
July 2020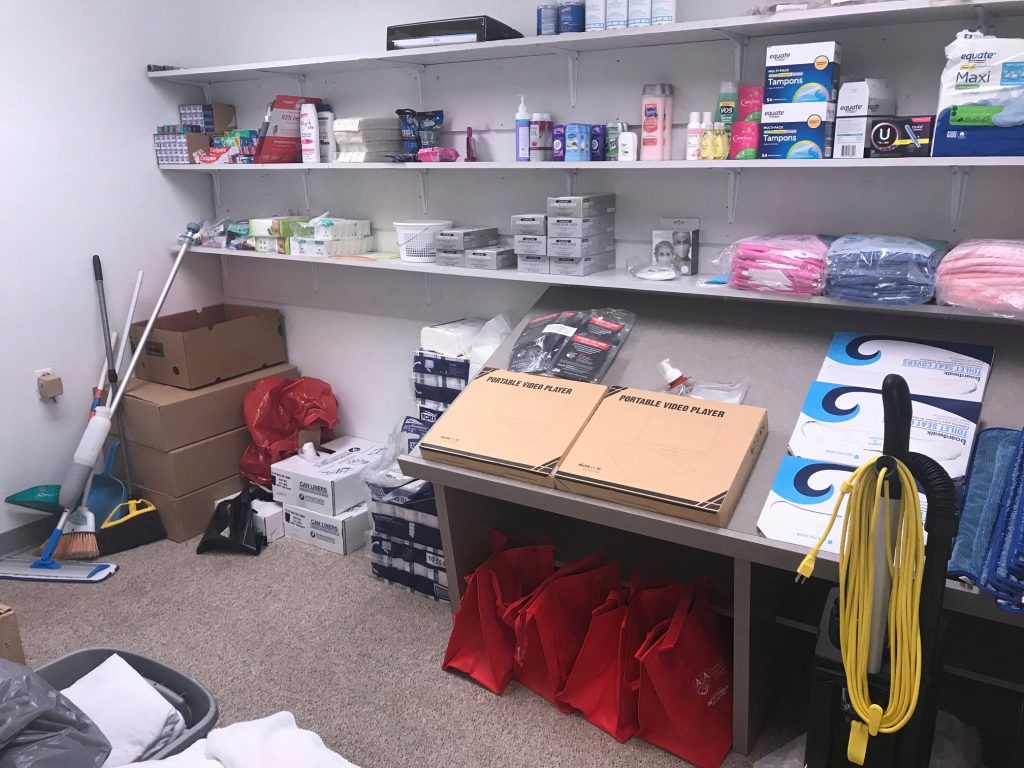 If you have been following MDC during COVID-19, you know that the building we purchased in December on West Fifth Avenue was used to meet a very unique community need.  During the months of April and May, the future location of The Gateway, Recovery Community Center, was used as The Guest House.  During this time, over 60 of Knoxville's homeless neighbors were given a safe place to isolate pending their coronavirus test results or to remain in quarantine if positive.  This helped prevent the spread of coronavirus and we were pleased to have worked with our homeless service agencies to provide the space.  MDC was very pleased that we had not started renovation of the building and pushed out our renovation timeline accordingly.
Unfortunately, another vulnerable population is not fairing so well in our community and those are our neighbors who have substance use disorders.  Addiction, by its very nature, is a disease of isolation.  The COVID-19 pandemic forced individuals to stay apart and for critical face to face support services to discontinue.  A key to maintaining sobriety early in the recovery process is to connect with others in recovery through sponsorships, support group meetings and group social activities and to be engaged in meaningful employment.  Unfortunately, many individuals lost their jobs, causing additional mental distress and feelings of hopelessness.
According to the Knox County Medical Examiner's office, suspected drug overdose deaths in 2020 compared to this time last year (as of the end of June), have increased by nearly 23 percent.  While we were fighting the pandemic, the epidemic of substance misuse was raging.  We did a wonderful job keeping our coronavirus related deaths down to 5, on the other hand, 35 individuals died in March, 27 in April, 37 in May and 26 in June of suspected drug overdoses.  Each of these 125 individuals, represents families in our community who have lost a loved one to a preventable disease.
WE CAN DRIVE THESE NUMBERS DOWN! There is not a more urgent time for our community to come together and build a center where connection, healing and hope can happen for individuals and families.  The Gateway renovation needs to happen quickly.  By partnering with MDC, you can help build bridges to lasting recovery through recovery coaching, access to support groups, art and music therapy, trainings for individuals and families, access to credit repair and employment services, as well as opportunities for connection to additional education and job training programs.
We need a physical place for all of this to come together.  The building is in a perfect location, staff and volunteers are ready to serve, we need you to come alongside us to push aside the stigma of guilt and shame and open up life-changing opportunities. MDC recently received the federal Building Communities of Recovery grant to cover the operations for the next 3 years.  We are the first agency in Tennessee to receive this funding. A solid foundation is in place, but physical space is our only limitation.
With your help, we can unlock endless possibilities of individuals and families.  To invest in or learn more about The Gateway, visit Our Gateway page.
With gratitude,
Karen Pershing
November 2020
As MDC continues to navigate the COVID-19 pandemic, there is a heightened awareness and critical need for serving the needs of one of our most vulnerable populations, those with substance use disorders. 2020 has been difficult for everyone, but there has been a significant increase in suspected overdose deaths in Knox County after seeing a decline in 2019. For the year, Knox County is up over 31 percent as of September 30th in suspected drug overdoses compared to this same time period last year. While many services shifted to a virtual format, the face to face interaction and accountability is especially important for those early in the recovery process. The Gateway is going to help provide that connection and place for services to come together.
MDC is pleased to announce that we have received a grant from Knox County government for $175,000 to go towards The Gateway building renovations. This has definitely provided a much-needed boost in a time when fundraising has been challenging due to the pandemic. We are extremely grateful to both Mayor Jacobs and County Commission for investing in this community asset. MDC has also sent over 500 solicitation letters out and conducted social media fundraising events with some success, but additional investments are needed. The MDC board is exploring opportunities to borrow against current assets in order to move the work forward to serve the community. The financial position of the agency is strong and the ability to leverage assets while additional funds are being raised gets us closer to meeting the needs of the individuals and families who could benefit from the services offered.
Please stay tuned for news on our groundbreaking event to begin the renovation and for regular updates on progress, both in construction and fundraising. By joining together, we can make this happen and reduce the impact substance misuse is having on our community!
May 2021
We have Exciting News!!!!!!  MDC's board of directors has approved establishing a line of credit while the fundraising efforts continue to move the Gateway renovation forward.  We will be tearing down walls and starting renovations within the next month.  Stay tuned as we share upcoming announcements, as we will be literally, "bringing down the wall."  Intrigued?  I hope so.  We cannot wait to share the project with you.  The need to serve our community through the Recovery Community Center has never been greater and with your help, it is happening.  We have raised over $500,000 thus far, which is 20 percent of our goal.
Watch your inbox and keep an eye open for updates!