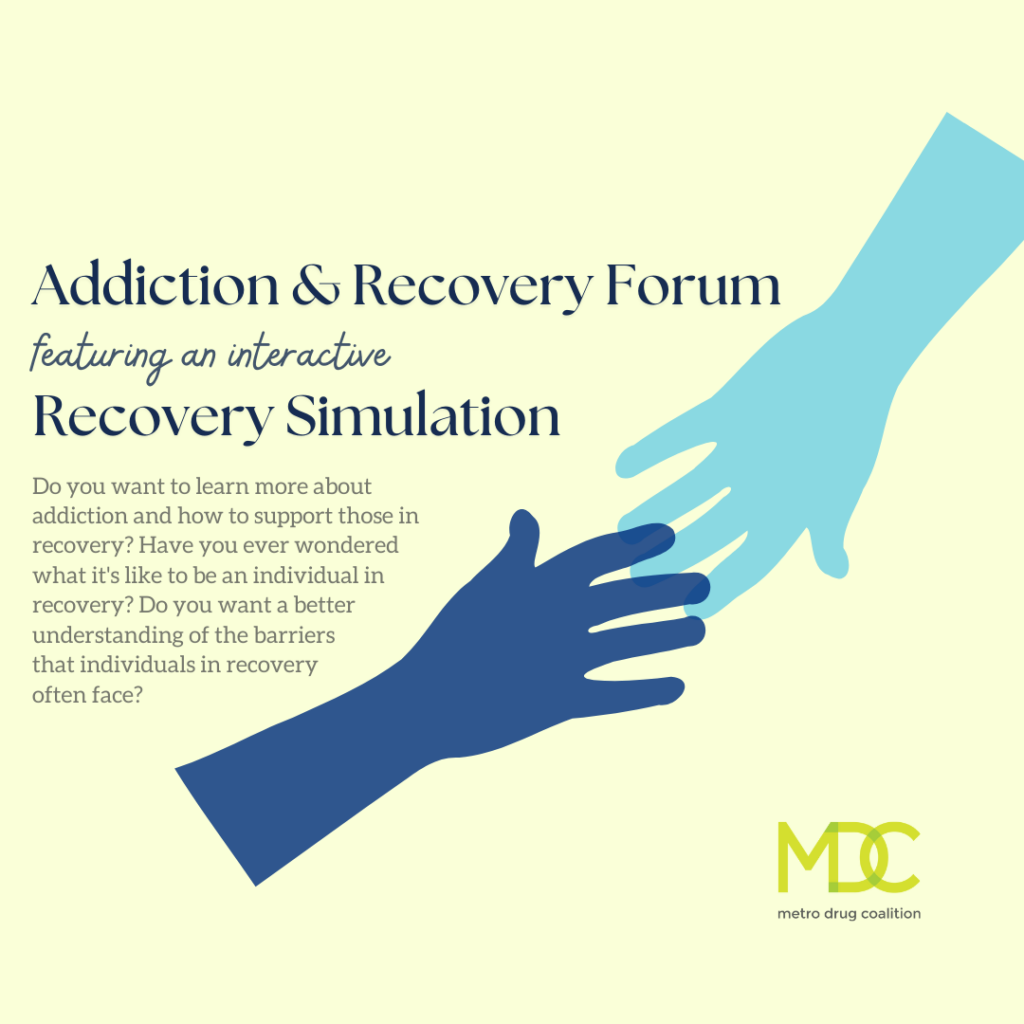 When: September 29, 2022
Where: Cokesbury Church, 9919 Kingston Pike, Knoxville, TN 37922
Time: 9:00 am – 1:30 pm
Registration for this event is closed. Thank you for your interest!
More About the Event
The Addiction and Recovery Forum is a free event featuring a recovery simulator that will allow participants to experience what it is like to be in recovery and the barriers often faced by those in recovery.
Join us at the Addiction and Recovery forum to:
Understand the disease of addiction

Hear from individuals in long-term recovery and family members of individuals in recovery

Gain a better understanding of the challenges and barriers that individuals in recovery often face

Learn about local resources and expand your network
Guest speakers include Dr. Stephen Loyd of Cedar Recovery Center, Seema Singh, Knoxville City Councilwoman – 3rd District, and Beth Bledsoe, parent of an individual in recovery.
Lunch will be provided. Please register for this event by September 20, 2022.
Sponsorship Opportunities
To become a sponsor, please email Misty McPhetridge at mmcphetridge@metrodrug.org. You will not be considered a sponsor for this event until your payment has been received.
Vendor Information
Thank you for showing interest in being a vendor at Metro Drug Coalition's Addiction and Recovery Forum on Sept. 29, 2022 from 9 AM – 1:30 PM at Cokesbury Church North Campus. Please note we have a limited amount of space for this event. Sponsors will have first rights to vendor tables and there will be a limit to the number of tables per service category so we can best serve our community. Vendors will be allowed to place one item in event goody bags. You will be considered a vendor once MDC has received your application AND $150 vendor fee. 
To be a vendor, please click the button below to fill out the application and submit your payment. If you have any problems submitting payment, please contact Metro Drug Coalition at 865-588-5550. Until we receive both your application and payment, we cannot guarantee a spot for you.